Senegal/Gambia - Rosso to Banjul
February 01, 2004
Scary Border
And so it was, that the day had arrived when I was to cross from Mauritania to Senegal. Fearing the hassle of money changers at the border, I had wisely equipped myself with some Senegalese currency (African Franc or CFA), so I could I make a swift getaway once I was on the Senegalese side.
The day started on the wrong foot, by the old codger of a taxi driver taking me to the wrong garage. Another taxi ride later I was at Garage Rosso, and due to previous extreme discomfort, I paid for 2 places, so I could have the front seat all to myself. I felt like a king. Well, no I didn't really, more like a 'normal person in the front seat of a car', which is quite an unusual feeling in Mauritania.
3 hours later, I arrived at the border, and was immediately set upon by a gang of touts offering to change money, and help me across the border. 'No thanks', I said, and headed for the entrance to the crossing. The policeman at the gate then informed me that the border was closed for lunch. 'Borders don't eat lunch', I said, or perhaps it came out more like an enquiry as to when 'lunch' ended. '3pm', he said.
It was 2pm, and the touts had come back saying that they could get me across anyway. Feeling a growing sense of just wanting to be the hell out of there, I gave one of them about 4 quid, and off we went. The policeman waved us straight through, and the tout disappeared into a building with my passport. 5 minutes later, he was back, and I had been stamped out of Mauritania. So far, so good.
The next part was the scary part, seeing as the Senegal River was between me and Senegal, and no, of course not, there is no bridge. I found myself on a decrepid wooden row boat, praying that it would make it across. 'No problem', said the tout, 'This very good boat'.
We thankfully arrived safely, and now had to deal with Senegalese immigration. 'They are also closed', the tout said, 'We need money for them'. Wishing I had never embarked on this 'during lunch' crossing, I gave him another 3 quid. 10 minutes later, he was back, and I was officially in Senegal. Both sides of the river were swarming with people who seemed to come and go as they please. I noticed that I could have easily just walked into Senegal without anyone checking my passport. I imagined though, that doing so might present problems at a later date.
By this time, another tout had found me, and was trying to get me on his minibus to St. Louis, my final destination. As he was quoting me absurdly high prices, the original tout was now asking me for his commission. I declared that he had already been paid, and as he started to kick up a fuss, the new tout gave him a quid, and said 'No problem'. The first tout disappeared, and I am left trying to explain to the new tout, that I don't want his minibus. He gets all pissed off, and demands the quid that he gave the other tout. I tell him that I didn't ask him to give anything to the other tout, and he should go and get his money back himself. He then started shouting at me, saying he would 'get me', and, 'this is not your country'. I'm starting to get quite stressed now, and thankfully the original tout appeared again, and I persuaded him to give the angry tout his quid back.
So, I'm finally almost out of this mess, and knowing that the Peugot Taxi to St. Louis is less than two qui
Just before I head off the tout bizzarely wants to swap email addresses. Finally 2 hours later I have arrived in St. Louis, and the scary border day is over at last.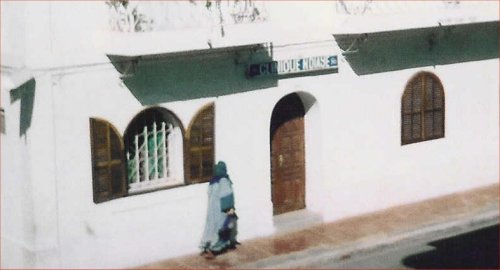 Saint Louis
Photo - Paul Beaton
February 01, 2004
St. Louis
St. Louis , just over the border from Mauritania, is a pretty nice place all in all. The town is on a small island connected to the mainland by a nice old bridge, which legend has it, was designed by the same guy that did the Eiffel Tower.
Consequently there are river/sea views all round, and the place is very peaceful (apart from the tourist touts!). The whole place still looks like it did when the French built it.
I spent a pleasant few days in sunny St. Louis, mostly just eating and drinking. I noticed that it doesn't matter what you order, it always comes with the same sauce. It's pretty tasty and I think it's called 'Yassa'. I also noticed that the more expensive the hotel you stay in is, the more vehement the sign is that insists you don't do laundry in the rooms. Not only was doing laundry 'strictly forbidden', but even 'hanging wet clothes on any item of furniture' was also a big no-no. I've developed a guerilla laundry tactic where I wash my socks just before I go to sleep, then hang them to dry.
If they are not dry in the morning, I take them off the back of the chair and lay them on my backpack under a plastic bag. The next tactical manouever is to go out for breakfast. When I come back, if the cleaner has already cleaned the room and made the bed, then I know it's safe to hang them back up. It's an almost foolproof plan, they'll never catch me, ha ha ha!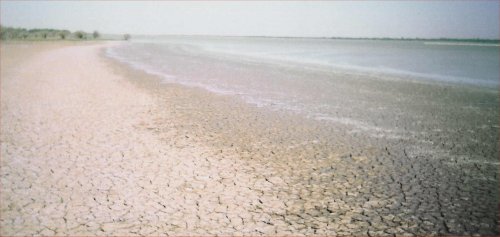 Wildlife park near St. Louis
Photo - Paul Beaton
Anyway, moving swiftly on, I tried to hire a bike to go to a nature reserve, but met with dismal failure and had to take a taxi. The man at the desk took some money and gave me a 'permit' to go in the park. Then he said a guide was 'obligatory'. It wasn't too expensive, so I took Mr. Obligatory, and he led me round the park and found some gazelle, an oryx, and a giant tortoise. The tortoise was in a cage, so actually not too hard to find, but he did a good job with the others. Then, either due to laziness or kindness, as I had an expressed a desire to go guide-free and wander around, he pointed the way back and left me to my own devices.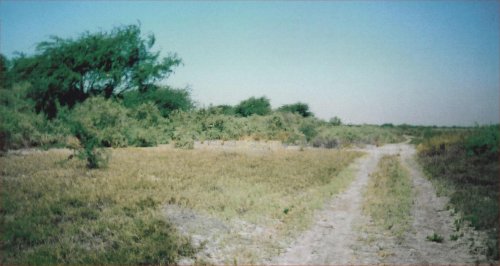 Where is the wildlife?
Photo - Paul Beaton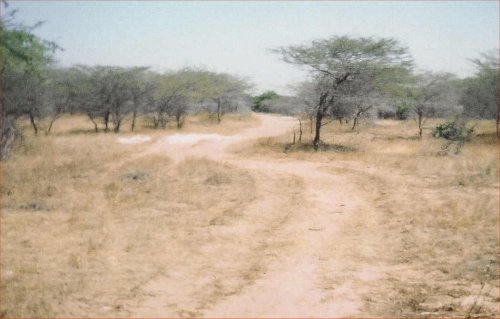 Still not too much wildlife
Photo - Paul Beaton
I had a very nice few hours wandering through the bush, and it looked just like Africa does on the telly, a kind of wild savannah type thing. It was by a river, and I saw lots of giant birds, and also a lion. No, I wasn't serious about the lion, just seeing if you're paying attention.
I rounded off my 3 days in St. Louis with a meal in the posh Vietnamese restaurant overlooking the river. Very nice indeed, and it even had different sauce!
February 04, 2004
The Touts of Senegal
'The Touts of Senegal' is NOT the new movie by Martin Scorcese, but if he's interested I have the vague outline of a script. In the opening scene, all the touts are at a convention in St. Louis. The chief tout is running through new strategies - 'OK boys, I hope you're all still using the 'my wife has just had a baby' routine - it works well for the sympathy vote. Also make sure you mention the brother/sister/cousin/friend who lives in the appropriate hometown, this gets the tourist on a more friendly level. When you've done this make sure you ask how long they've been in Senegal to get the gullibility rating, and then what hotel they are in, so you can work out your pricing index. Once you've got the basics down, you can say 'Welcome to Senegal' with a big smile, and then you can start the phase 2 pressure tactics'.
'A good basic start is the 'this is a welcome gift' ploy. Give them a piece of worthless junk, and insist there are no strings attached. Follow it up with a minor sob story, and you can raise the guilt level high enough for them to come into your shop. Once they are in the shop, your battle is half over'.
'As a last resort, go for the 'Don't you like Senegalese people?' retort, so you can play on their fear of being rude and unfriendly.'
'If all this has failed, at least ask for a cigarette, so you don't come out of the transaction with nothing, and make sure you remember their name, so you can harass them in the street when they pass again'
'All right lads! Off you go, get them tourists!!'
I haven't quite got the plot worked out for the rest of the movie, but I do have a good ending...
A lone British tourist finally cracks, and after buying a sniper rifle from the Vietnamese restaurant at the end of the island, he begins to silently shoot the touts one by one from his hotel balcony. The last remaining tout calls for backup from Dakar, and all the Dakar touts swarm the island. The lone British tourist however, has planted dynamite all over the island, and he flees across the bridge blowing up St. Louis and all the touts behind him. He then goes on to enjoy a few days in Dakar without any touts left to bother him.
If you're reading this Mr. Scorcese, and you're interested, drop me an email...
February 05, 2004
Mark and Sam
Mark and Sam were the first people I ran into in Dakar. They were eating in the hotel restaurant, and hearing people speaking English, I got excited and went over.
Mark is in his 40's and used to read the news on Hong Kong TV. Bizzarely enough he used to be a regular on Sunday nights at the Hong Kong bar I worked in. So, it's extremely likely I had already met him a few times 8 years ago. He was on a quick trip to Mali, and was going the next day to get his visa. This was very good timing, as so was I. He had already hired a taxi for the whole of the next day, and he very kindly let me share it to go up to the embassy and back, and around the peninsula sight-seeing.
He also gave me a book he had finished reading, which I very much appreciated as I hadn't seen any English books since Morocco, and I was more than a little tired of the International Herald Tribune, which is a weedy thin newspaper in an unpleasant font. (hope I can't get sued for that). So it's a big thank you to Mark. I am not any less grateful just because it was a Geoffrey Archer book. I've never read one of those before, and although I found the story reasonably good, the descriptive narrative I thought sometimes he was taking the piss. I went back to the front page to check it didn't start with - 'It was a dark and stormy night...'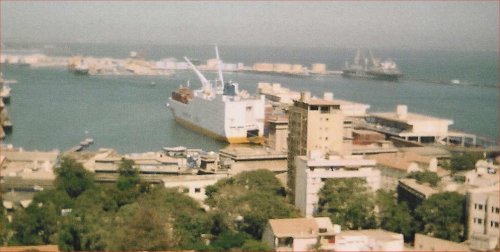 A harbour of Dakar
Photo - Paul Beaton
Sam, on the other hand was about 20, and he was having a hard time of it in Dakar. His gentle, trusting nature was being taken advantage of by the touts of Dakar, and he seemed to be wandering around in a daze.
He sat with me at breakfast before I left, and was drinking green tea. He explained he was only eating and drinking pure natural things. I replied that that was commendable, but certainly didn't suit me, as I liked unnatural things very much (don't read that the wrong way).
'Have you heard of drinking your own piss?', he asked.
'Yes, I have', I said.
'Well, that's what I'm doing', he replied. He then added that it tasted just 'like water', if you only eat pure things, which was perhaps too much information.
He went off down the coast to chill out for a couple of weeks.
I wish him the best of luck!
February 06, 2004
Big Bad Dakar
In the end, Dakar was big but not that bad. It was in fact much more pleasant than I expected it to be. The day I arrived was a public holiday, and the whole of Dakar was completely deserted. It was like some science-fiction ghost town.
I found a nice enough hotel, but it wasn't too long before the cleaner knocked on my door and checked if I needed a woman. 'It is no problem', he declared.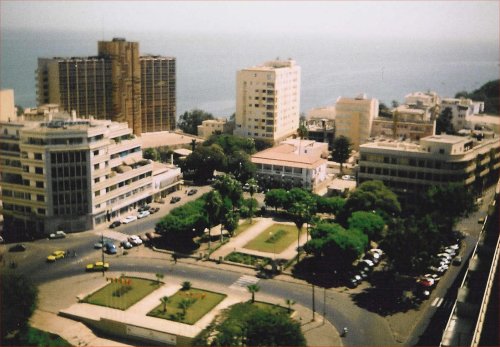 Dakar Plaza
Photo - Paul Beaton
After politely declining his offer, I went to central Dakar looking for a cashpoint. The first two I tried said, 'Sorry, your bank has declined the request'. I got lucky the 3rd time, and the machine produced some money. I think the cashpoints of Dakar need more work on their error messages.
The next day, i took a brief stop at the Mali embassy, where getting a visa is very straightforward - Mauritanians in Casablanca take note. The rest of day was sightseeing by taxi, which Mark had booked for 3 days, and he very kindly asked me along for the ride. Dakar is in a great location at the end of a peninusla, with a few small islands dotted around, and you don't have to go to far from the center to get to some pretty nice places.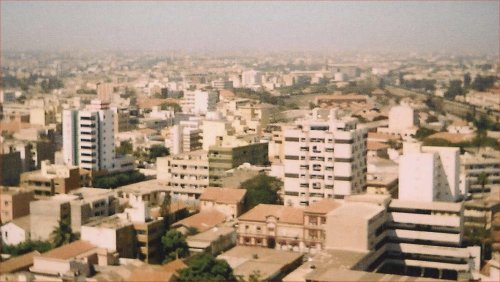 Overhead view of Dakar
Photo - Paul Beaton
The actual city centre of Dakar I found surprisingly pleasant, although outside the centre it's pretty horrible urban sprawl. We took lunch on a hotel roof with panoramic views of the city, and in the evening went to a place that allegedly had live music, though none actually materialised. The woman at the embassy got the visa done in the same day, as Mark had already talked her into it on Friday, so I had an early night and prepared to set off for The Gambia.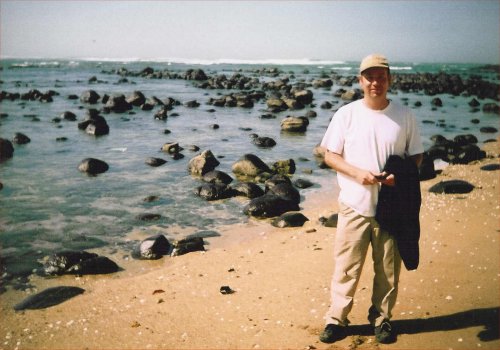 Here I stand at Africa's westernmost point(ish)
Photo - Paul Beaton (well actually Mark took it really)
February 07, 2004
Mellow Border
The time had come to set off from Dakar, and make my way to Banjul, capital of The Gambia. After the last border crossing, I was not looking forward to this one, to be perfectly honest. I managed to oversleep (quite unusual, don't you think?), and therefore decided to spread the journey over 2 days. First stop, Kaolack, a regular kind of town in the middle of Senegal. Not many tourists here, so no touts, yes!
The journey was a good one, as I arrived at the transport garage at the right time to get the front seat. There was a bloke there asking me for a tip, because he showed me where the taxis were. In fact , Senegal has cardboard signs marking destinations, a great improvement on Mauritania. Therefore I told the man where he could stick his tip, well not those exact words..
The taxi managed to break down after 20 minutes, so we all got out, and the others stood round giving the driver abuse, while I looked at a tree hoping nobody would start a fight. Back-up came, and we were on our way again. 4 hours later, We hit Kaolack and I went to sleep.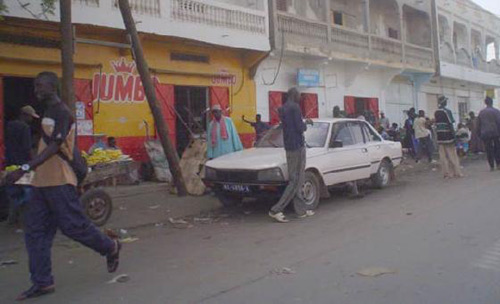 I reckon I was in this shop drinking Vimto
Photo - Joao Pedro Leitao
The next day started with two hours to the border post, and to my amazement, the taxi stopped, we all got out, got our passports stamped, got in the taxi and carried on. It took about 3 minutes. Excellent, out of Senegal no worries. Then the taxi stopped, but the road continued past a police hut. So, in I went.
'Hello', says the policeman, 'Where are you from?'.
'England', I replied.
'How long are you staying in The Gambia?'
'Erm, about a week?'
'A week, that's not long enough'.
'Ohh, well, erm, I'm not sure'.
'I'll give you a month then.'
'Erm, OK, Thanks very much'.
'You're welcome. Have a nice trip.'
That was it, I was in. There were almost no touts either. Just 3 moneychangers, and one of them was a GIRL. The Gambia must be modernising...
The last leg of the trip, involved a 10km taxi ride, and an hour on the ferry. The taxi ride went well, but the ferry was horrid. It was SO rammed, I was wedged between 2 cars, and it was boiling hot, and some inane kid was asking me football questions. It also said on the ticket - 'We do not accept any responsibilty for injury or loss of life, except in extreme circumstances'. I'm not even sure what that means, but it's not encouraging.
Still, after an hour the misery was over, and I arrived in Banjul. The Ferry Guest House was right by the terminal, and I duly checked in. This I later regeretted, as it was a scraggy dump, and despite covering myself with mosquito repellant, I got eaten alive that night, and I am still paying the price
Now I'm hoping I don't pay the price with malaria a bit later.