Walking the London Loop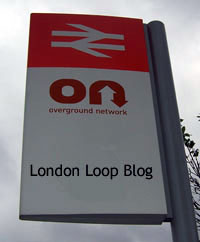 There is a mighty route - an M25 for walkers no less, known as the London Loop, which goes for over 140 miles right around the outskirts of London.
In April 2005 I purchased the very handy London Loop Recreational Path Guide, and armed with this bible of London Loop walkers, the London Loop was ready to be tamed - every last mile - no stone unturned - no path too overgrown - no zone too far - starting from the south bank of the Thames at Erith in zone six, and finishing near a rubbish tip at Coldharbour Point on the opposite bank of the Thames. (stop press: LOOP now goes past rubbish tip and finishes at Purfleet)
There were 15 sections of the LOOP to complete, and it took FIVE WHOLE YEARS (We didn't do that many a year...)
Tom Moreton was a walker on all sections.
The photo gallery of the final section is: Section 15 - Harold Wood to Purfleet