Walking the Capital Ring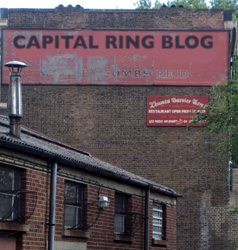 If the London Loop is the M25 for walkers, then the Capital Ring is the North and South Circular. It's about 80 miles long, and runs through London's inner green spaces - pretty much in zones 3 and 4.
We did the first stage of the ring at the end of July 2006, and we finished on October 27th 2007. There are normally 15 sections to complete, but we condensed them to 13 sections, as we live on the ring! It starts and ends in Woolwich.
Catheryn Cheetham walked with me on all the sections.
You can view the highlights of the Ring, in this entertaining video, which shows that London really is beautiful!!

Watch the Capital Ring highlights quicktime movie!!!